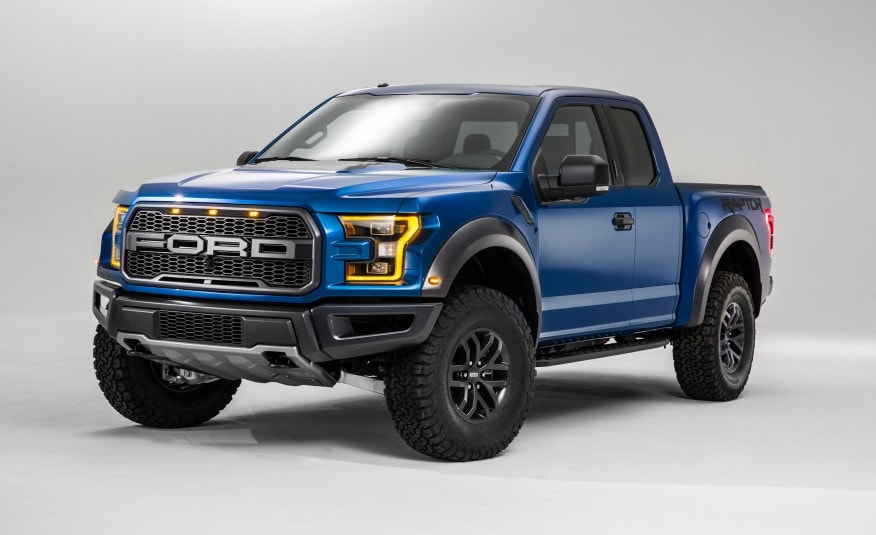 2017 has brought us so many wonderful things in the automotive world, including fleets of new vehicles that have us quickly ditching our old and out dated ones. Among those exciting new vehicles in the 2017 Ford F-150 Raptor. The name itself makes is as fierce as it sounds especially when cruising through any kind of terrain you can imagine. With a 10-speed automatic transmission, 6 modes to satisfy all of your off-roading needs, a 3.5-liter twin-turbocharged V-6 with 450 horsepower, and the monster-truck feel you get when driving around the city, you'll feel like a truck lover even if you weren't before.
The new 2017 Ford Raptor comes with 6 driving modes depending on the type of terrain you want to tackle. This feature is what makes this new pickup much more appealing than any other truck. Choose from Normal for every trips around town, Sport for a drive through twisting mountains, Weather for frozen or wet weather, Mud/Sand to kick you above ground when driving during your sand dune trips, Rock Crawl to get you over those pesky mountains, and Baja for high speed desert adventures. The crowd favorite mode of the Raptor is the Baja mode, which when switched on from the wheel console immediately shifts into 4x4 high. The faster you go, the quieter the cabin, because this speed is designed for faster.
This pickup is no doubt the adventurous type, which is what most of us tend to look for, but the cab is surprisingly quiet while you're ripping through mountains and desert terrains. This 5,500-pound truck has incredible suspension and handling capabilities so you won't have to worry about rolling down a mountainside during an off road journey. Switching to the aluminum body like the rest of the Ford fleet has done nicely for this pickup, helping it drop 500 pounds of weight. Ford added new 3-inch Fox Racing shocks which are 44 percent larger and add 0.8 and 1.9 inches of suspension for the front and rear. For better control, there is a 9-stage bypass damping and a hydraulic bump to keep you from bottoming out and help control heat.
The Raptor is the talk of the year, especially with its 2017 10 Best Trucks award under its belt. Right about now, you are probably looking for a way to test drive it. Look no further!
Call or visit McKie Ford in Rapid City, and we'll take you out for the test drive you are craving.