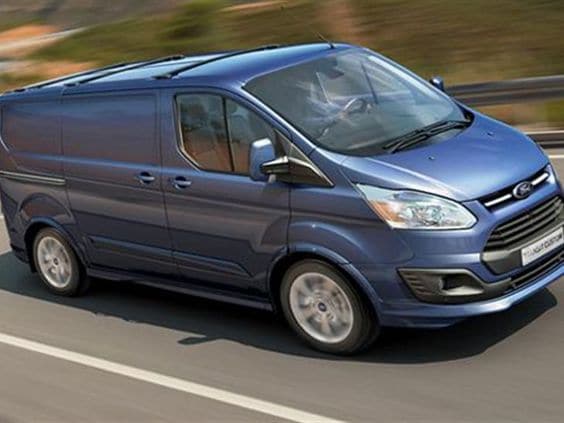 Are you growing your business? Do you need commercial vehicles to help put your company out in the field? McKie Ford has you covered. We have been helping businesses in Rapid City grow for many years. So if you really are ready to grow pay us a visit, because we have all the vehicles that you need.
Vans For Sale
At McKie Ford we have commercial vans like the 2017 Ford Transit. This van is available in several engine options: a 3.7 liter Ti-VCT V6 engine that gives you 275 horsepower with 260 lb-ft of torque; or the 3.5 EcoBoost V6 engine, which offers 310 horsepower and 400 lb-ft of torque. 
The EcoBoost has this impressive power due to direct fuel injection technology. This technology efficiently sprays fuel mist directly into each cylinder as opposed to the intake system. In doing so it helps the engine extract as much power as possible from the fuel, thereby making it fuel efficient as well.
The standard GVWR (Gross Vehicle Weight Rating) is 8,600 pounds. This can be upgraded to over 10,300 pounds. Other standard features include air conditioning in the front, with an option to include it in the rear, and a digital instrument panel which shows the mileage left before the gas tank is empty. Check out our inventory of Ford Transit vans for sale!
Ford F250 Super Duty
The Ford F250 Super Duty is not your average pickup truck. For starters it has seating for 6 with over 40 inches of head room, and over 43 inches of leg room throughout. Of course it has two superior engines available: a 6.2 liter V8 Flexible-Fuel Vehicle (FFV) engine, and a 6.7 liter Power Stroke Turbo Diesel engine.
The FFV engine has an internal combustion engine that is designed to run on either gasoline or a gasoline-ethanol blend, and it has an available 385 horsepower at 5500 rpm, while the turbo diesel offers 440 horsepower at 2800 rpm.
Both trims have a maximum conventional towing capacity of 19,000 lbs and a maximum GVWR of 14,000 lbs. The truck comes with a bumper to bumper 3 year / 36,000 mile warranty, and a powertrain warranty of 5 years / 60,000 miles for the gas engine, and 5 years / 100,000 miles for the diesel engine.
So if you're growing your business, and need commercial vehicles for your fleet, visit our dealership today!